I love it when something just out of the blue magically surprises me, only this time it was out of the green. It happened when I went to the open house of a Realtor colleague, Tiffany Wells, who was serving split pea soup. Not just any spit pea soup, mind you. The very best split pea soup I have ever tasted. This is where the forces of the universe come into play. I didn't even know about her open house. For some reason, Tiff called me spontaneously with a special invite. I had less than an hour to get there and I was still dressed in my, ahem, morning attire. Why would I spring into action like a three-ring circus to get ready, out of the house and drive 10 miles to a vacant house in Keizer for a bowl of soup? Obviously there was something in the soup! As Yoda might say, "Souperlative, it was!"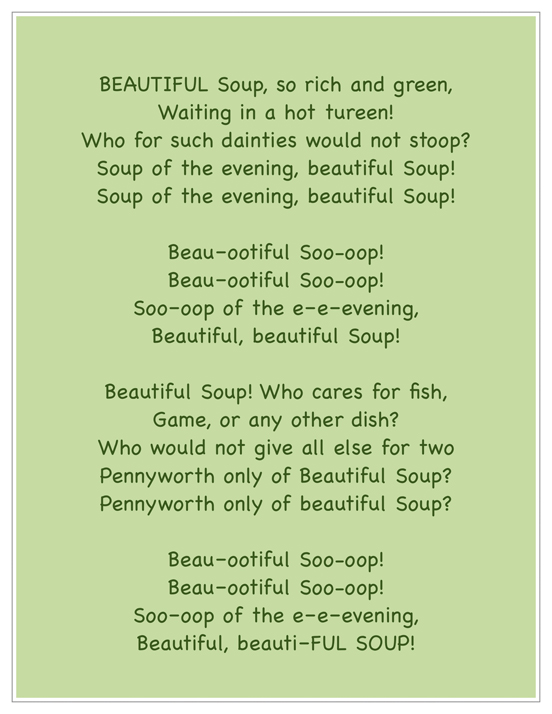 Click here to hear it sung by the Mock Turtle (Gene Wilder) and the Griffin
From Alice in Wonderland by Lewis Carroll
I can hear Tiffany and hubby John Gidley tenderly singing this song to baby Porter.
Tiffany disclosed her soup secret bashfully, claiming it was so simple, just split peas, a ham bone, onion, carrots, celery and water. But the ham bone, and such sweet meat! It was rich and very flavorful but lacking the smokiness that is so familiar with the ham hocks I'm used to buying. She confessed to using a ham bone from the HoneyBaked Ham store. Tiff further disclosed that the store was offering a two-for-one sale. Not only soup bones at half price, but they were richly laden with the meaty ends of the spiral cuts. Further disclosures revealed that she had no celery but didn't let that detail stop her. Don't you love a fearless cook?
Smitten and seduced by her soup, I knew I must share it with the world. The wheels in my mind had already convinced me to change our dinner plans for this soup.
Tiffany's Split Pea Soup
1 HoneyBaked Ham bone*
Olive oil for sautéing the vegetables
½ of a large onion, diced
3 large carrots, quartered lengthwise then thinly sliced
2 large ribs of celery, minced
4 cups (960 ml.) split peas
1-2 bay leaves
Fresh ground pepper to taste (I added no salt as the ham provided plenty)
Water or stock to cover
* If you live in Salem, the HoneyBaked store is at Salem Center downtown in the building housing Nortstrom.
Thaw the ham bone.
Heat some oil in a heavy Dutch oven and begin sautéing the onions. Sauté for about 3 minutes while stirring frequently to keep from browning.
Add the carrots and celery and cook for just another minute or so.
Add the ham bone, the split peas, bay leaves, pepper, and water or stock to cover, and bring to a boil.
Lower heat and simmer until the peas are cooked and have surrendered into a purée. (Do not, I repeat, do not think of The Exorcist here.)
Enjoy with some hearty sourdough bread and a salad.
Bon appétit
— Charles
Category: Soup

Music, food and photography are at the center of Charles' life. He performed with the Dallas Symphony, Dallas Opera and was assistant principal bassoonist with the Fort Worth Symphony for more than 20 years. When Charles and Victor moved to Baltimore, Charles created Lone Star Personal Chef and Catering Service and taught cooking classes at Williams-Sonoma. Now in Salem, Charles is a Realtor with Coldwell Banker Mountain West Real Estate, taught cooking classes for children at the A.C. Gilbert Discovery Village, and owns and operates Charles Price Photography. Charles and Vic enjoy entertaining and frequently host dinners as fundraisers for local non-profits and charities