Easy to make, and served on top of Parmesan crisps or just plain crackers, this spread has a wonderful flavor combination of sweet green figs, creamy goat cheese and salty prosciutto. It's the perfect appetizer to serve whenever you're thinking of popping a bottle of sparkling white or rosé. You'll be amazed at how great it tastes…and how quickly it will disappear.
The idea for Parmesan crisps isn't mine; rather I read about the technique for these festive delicate treats in "The French Laundry Cookbook." During the years when I was traveling to the Bay Area a lot for work, we used to try to get reservations to this restaurant but could never get in. We settled instead for restaurants like Alice Waters' Chez Panisse or Michael Chiarello's Tra Vigne. Having never eaten at Thomas Keller's French Laundry, we've admired his food through his cookbook instead.
Making Parmesan crisps is a time-consuming process that requires attention. But they're really impressive, tasty and worth the effort. The spread, on the other hand, is an elaboration on a classic combination. I've always enjoyed figs and goat cheese—the combination of slightly salty creamy cheese is punctuated by the pieces of sweet fresh figs. I added prosciutto to the combination, as well as a little honey. If it's the time of year that you can't get fresh figs, you can substitute dried figs, which are sweeter, so leave out the honey.
My favorite Oregon wine to serve with this is a Soter Vineyards Brut Rosé. Most people don't realize that Oregon produces some spectacular sparkling wines. Our state's fame for pinot noir overshadows the fact that the state's winemakers produce a variety of amazing whites and sparkling wine as well. Soter is one of them.
Tony Soter, an Oregon native, founded Etude Wines in 1982 and in the mid-1980s, he began working as a consulting winemaker in the Napa Valley, assisting such stars as Araujo, Niebaum-Coppola, Shafer, Spottswoode, Viader and Dalle Valle. After years of mentoring, he ended his consulting roles to focus exclusively on Soter Vineyards and Etude. By California standards, Soter Vineyards is a small, boutique winery, producing estate pinot noir, sparkling wine and cabernet franc. Chardonnay is the backbone of their Brut Rosé, with the pinot noir adding beautiful salmon-pink coloration and complex flavors of cranberries, strawberries and spice. The Soter estate vineyard, Mineral Springs Ranch, is located in the Yamhill-Carlton AVA in the northern Willamette Valley. Soter just completed construction on a tasting room, but they don't have regular hours, so if you're interested in visiting you have to make an appointment. You can do so by calling (503) 662-5600. Click here to be directed to Soter's website.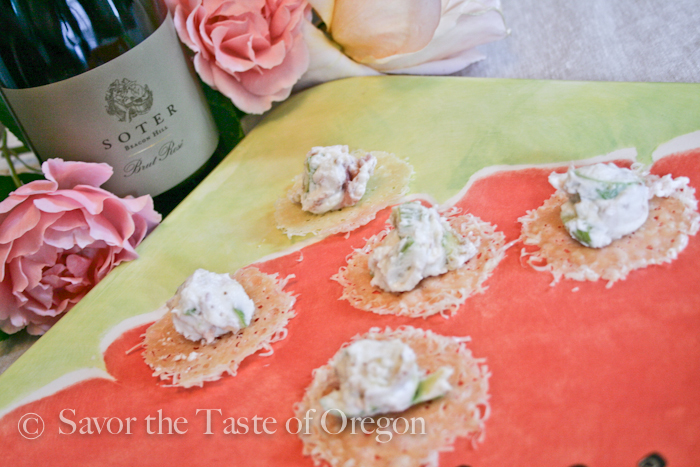 Parmesan Crisps with Goat Cheese, Fig and Prosciutto Spread
Serves 10 or more as an appetizer
Ingredients
8 ounces (240 g.) goat cheese

½ cup (120 ml.) cream (or Half & Half)

1 tablespoon (15 ml.) honey

2 strips prosciutto, cut into small pieces

4 ripe green figs, cut into small pieces

Grated Parmesan cheese
Method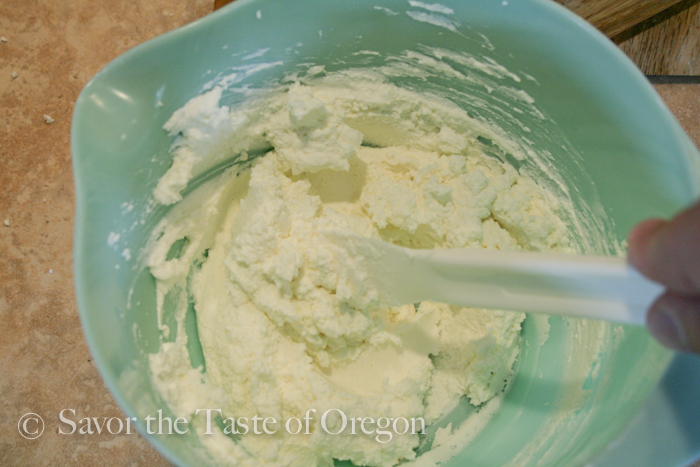 In a bowl, combine goat cheese, cream and honey and whip with a spatula until smooth.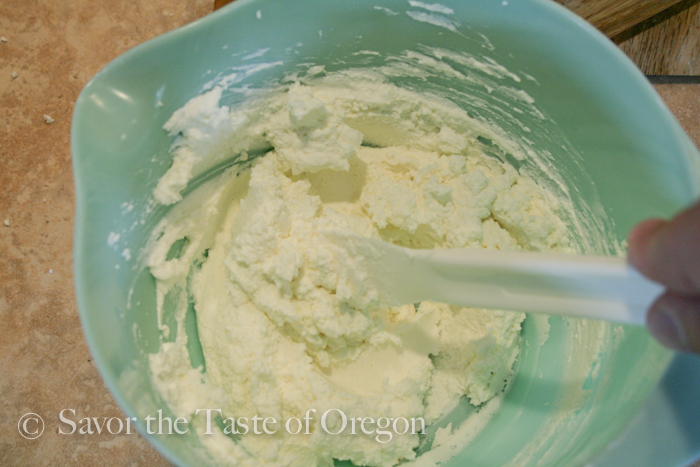 Add prosciutto and mix until incorporated.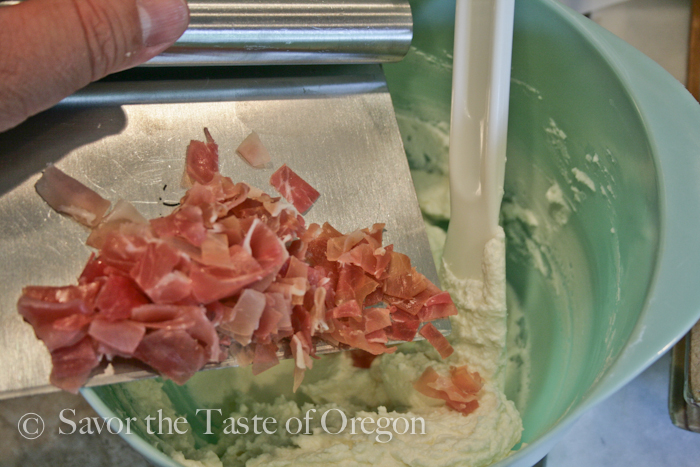 Cover the bowl with plastic wrap and refrigerate until ready to serve.

Preheat oven to 325 ºF.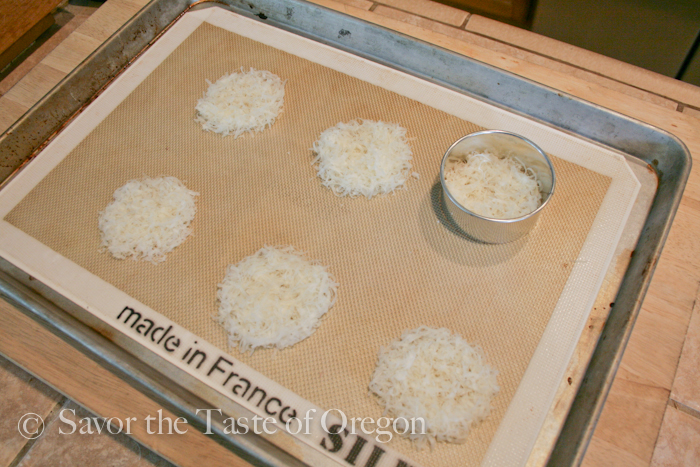 Place a Silpat non-stick baking sheet on a half-sheet pan or use a non-stick cookie sheet pan and, using a 2½-inch (6.35 cm.) cookie cutter as a mold, place the mold on the pan and put 1 tablespoon (15 ml.) of grated Parmesan cheese inside the cookie cutter and spread the grated cheese around inside the mold to create a uniform circle of grated cheese.

Gently lift the cookie cutter so that the grated cheese stays as a circle and place the cookie cutter a couple of inches away and repeat until you have 6 evenly spaced rounds of cheese on the pan.

Position an oven rack in the center of the oven and place the pan in the oven and bake for 7-10 minutes, checking regularly until the cheese melts and turns golden.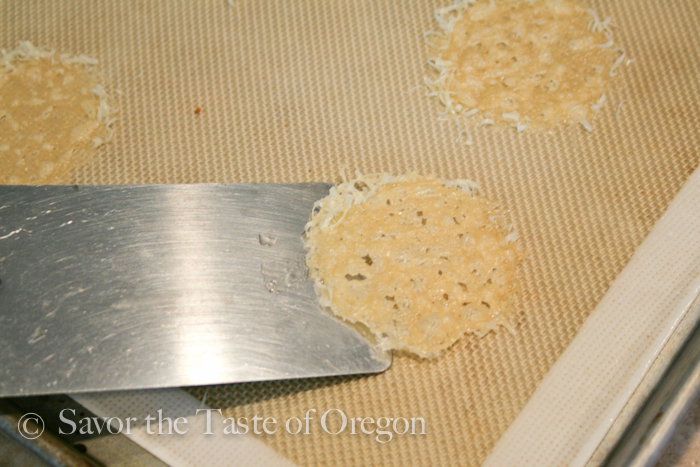 Remove the pan from the oven and let it cool for a minute or two. Then use a metal spatula to gently scoop up the cheese rounds and set on a wax paper sheet to cool.

Repeat the process until you have as many Parmesan crisps as you need.

When ready to serve, use a teaspoon to scoop a ball of the cheese and fig mixture onto the center of each Parmesan crisp and arrange in a serving platter and serve.

If you don't want to hassle with Parmesan crisps, you can serve the cheese and fig spread on toast crisps or crackers. Put the cheese spread in a nice serving bowl and decorate with some fig slices.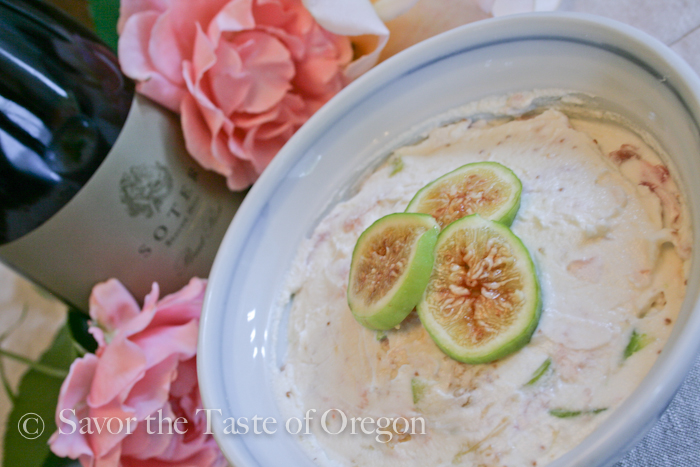 Enjoy!
— Vic
Interested in other pairings for bubbly? Check out these recipes from our Let's Lunch blogger friends from around the world:
Charissa of Zest Bakery & Deli: Champagne and Bacon, Apple, Swiss Quiche
Ellise of Cowgirl Chef: Sundried Tomato Pesto Palmiers
Cheryl of A Tiger in the Kitchen: Cheddar Pecan Crisps
Emma of Dreaming of Pots and Pans: Cold-Smoked Salmon Bites
Maria of The Bubbly Girl: Parmesan Toasts
Steff of The Kitchen Trials: Stuffed Figs, Parmesan Crackers and Cheesy Pecans
Linda of Free Range Cookies: Cheese Straw Crackers
Eleanor of Be a Wok Star: Summer Snacks with Gancia Prosecco
Mina of Hot Curries and Cold Beer: Samosa-Shingara Pies
Karen of GeoFooding: Parmesan Crisps with Goat Cheese and Balsamic Caviar
Category: Appetizers, Cheese, Wine/Wineries

Victor Panichkul is a journalist and writer by training; a cook, wine lover and photographer by passion; and a lover of the outdoors since moving to Oregon more than 10 years ago. He is a native of Bangkok, Thailand.