Category: Pie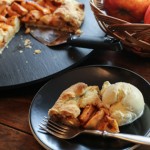 I have been caramelizing apples with sugar, cinnamon and chipotles for some time now to use as a condiment alongside Forever Roast Pork, a classic recipe from Tra Vigne Restaurant in St. Helena California.
Placing the sweet-hot-cinnamony apples center stage in a rustic tart seems like the perfectly natural thing to do, especially when sitting under a healthy scoop of vanilla ice cream. It's a great combination - trust me.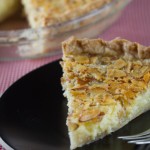 Buttermilk pie originally hails from England. Today the deep south stakes claim as its home with Texas bestowing more love on it than most. A custard of buttermilk, eggs, butter and sugar baked in a pie shell is a simple pleasure, no pretentiousness here. However, there is elegance in its simplicity. The tangy tartness of the buttermilk shines through if you don't drown it in sugar. Sometimes a little lemon zest can add additional brightness.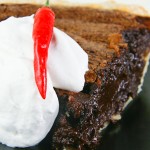 My first date with Ancho Fudge Pie was at the original Z'Tejas Southwestern Grill on 6th Street in Austin, Texas, some time in the late 1980s. I can't remember if "Southwestern Grill" was part of the name then, but that's not important.
About 10 years later I noticed that they had expanded beyond Texas. Lo and behold, they had opened a Z'Tejas in Columbia, Maryland, one of the early master-planned communities in the U.S. Pie heaven come home to me.