Category: Featured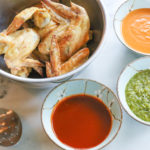 Tired of the same old barbecue or honey-glazed chicken wings? Don't worry. Whether it's snack food for a football game or any other party, this trio of chicken wing sauces will have your partygoers flying high and high-fiving you. The easy recipes take their cue from my Thai heritage and a little Tex-Mex flair from my stint living in Austin and Fort Worth, Texas.
Corn is at its best in the hot summer months and, lucky for us, it freezes well so we can pair it when fresh Dungeness crab is at its best - in the cooler months.
Chowders are those rich, thick, stick-to-your-ribs soups usually made with fish, clams or corn with potatoes and onions swimming in milk, cream or both. Building this potage on a foundation of bacon seems like the perfectly natural thing to do so we will.