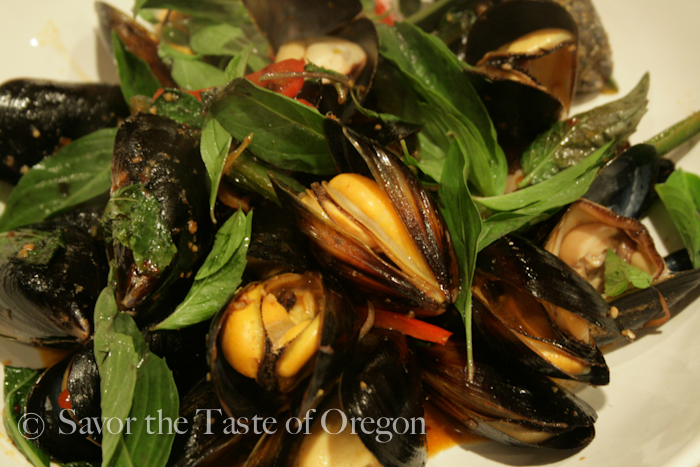 One of my fondest memories of growing up in Los Angeles is the time that my family and family friends went to the beach to collect mussels and cook them on the beach for a picnic. We took along buckets, heavy gloves and screwdrivers to pry the mussels from the rocks.
We steamed them in some water, lemon grass and kaffir lime leaves in pots set atop a beach fire. And we ate them steaming from bowls as we sat on the beach, dipping them in some sauce that we had brought from home: pounded garlic, peppers, lime juice and fish sauce. It was heaven.
Another fond memory I have of eating mussels is set in a much different part of the world. Charles and I had gone to Paris for a getaway from Baltimore over the New Year's holiday. The city sparkled and shimmered, still lit by Christmas lights. It was cold but clear and we roamed the streets, enjoying one café after another. It was really an adventure. One of our meals was a simple moules frites, mussels cooked in shallots and white wine and served with french fries. I don't know if it was the setting or the preparation, but those mussels were simply divine.
Nowadays, you don't have to go foraging for mussels at the beach. Farm-raised mussels are so common that fresh mussels are available at most grocery stores year-round.
According to the Mussel Industry Council, about 80 percent of all farmed mussels produced in North America come from Prince Edward Island in the Puget Sound in Canada. They're raised on huge floating farms, millions of mussels attached to rope socks that float from buoys, hanging down in the cold water. You might wonder why some mussel meat is more orange or yellow in color and others are more white. According to the council, the flesh of male mussels is almost white, while females are yellow to orange.
Mussels are simple to prepare, nutritious (high in protein and low in fat), and affordable. Plus, they're harvested year-round. This means that they're a perfect dish for the fall and winter when you're hankering for some variety.
One of my favorite ways to prepare them is in a Thai style with peppers, basil, and a sweet and salty sauce. You can make it a starter or part of a meal by pairing it with another stir fry.
Thai Pepper Basil Mussels
Serves 4
Ingredients
3 tablespoons (45 ml.) oil
2 cloves chopped garlic
1 cup (240 ml.) chopped red bell peppers
2 tablespoons (30 ml.) roasted palm chili oil (found at most Asian grocery stores)
Four dozen mussels, rinsed under cold water, shells scrubbed and beards pulled off
½ cup (120 ml.) water
1 cup (240 ml.) loosely packed cup of Thai basil leaves (regular basil will do)
Method
Heat oil in wok over high heat and sauté garlic until golden.
Add bell peppers and roasted palm chili oil and stir until peppers are well coated and begin to cook.
Add mussels and water, stirring until mussels are coated with sauce, cover wok with lid and cook for 2-3 minutes. Remove lid and stir so that unopened mussels go to the bottom of the wok. Cover with lid and cook another 2 minutes until all mussels have opened. Discard any unopened mussels.
Add basil leaves, stir briefly and serve.
Enjoy!
— Vic

Victor Panichkul is a journalist and writer by training; a cook, wine lover and photographer by passion; and a lover of the outdoors since moving to Oregon more than 10 years ago. He is a native of Bangkok, Thailand.