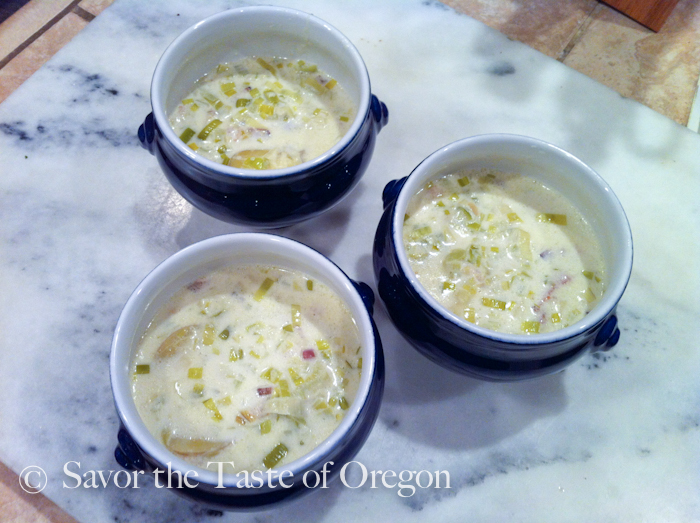 On cold and wet days, nothing warms you up like a bowl of creamy leak and potato soup. Plus, it's hearty enough to eat as a dinner with a small salad to go along with it. Just make sure you have some good sourdough bread to go along with your soup as you'll want to sop up all that creamy liquid.
Like a typical American kid, I grew up on cans of soup, and I tended to gravitate toward cream soups, given a choice when shopping with my mom: cream of corn, cream of broccoli, cream of mushroom. As an adult, I've discovered how easy it is to make cream-based soups. Plus, if you're aiming for a healthier version, you can use milk and cut the amount of heavy cream in half.
The trick when making any cream- or milk-based soup is not to let it come to a hard boil or you'll risk ruining your concoction because the milk or cream will separate.
I love the flavor of leeks and they make a great flavor combination with potatoes. I prefer using Yukon gold potatoes because they won't fall apart when boiled.
I always start with a few slices of smoked bacon that have been chopped into small pieces. Sauté until the bacon softens and turns translucent. Then add the chopped leeks and some more oil and cook under medium heat until the leaks are soft and translucent.  Then I add quartered Yukon gold potatoes and fill the pot with enough water to cover the potatoes and bring it to a boil over medium high heat. When it starts to boil, lower the heat to medium and cook until about half of the water evaporates and the potatoes are soft when pierced with a fork. Then I add the cream and milk and lower the heat further and stir until it begins to simmer. Then add ground black pepper and serve hot with some sourdough bread.
The entire process from start to finish takes about half an hour, and you'll be surprised how simple and tasty it is.
Cream of Leek and Potato Soup
Serves 4
Ingredients

3 strips smoked bacon, chopped into small pieces
3 leeks, white and light green portions finely chopped
2 tablespoons (3o ml.) oil
3 large Yukon gold potatoes
Enough water just to cover potatoes
3 cups (720 ml.) heavy cream
3 cups (720 ml.) milk
Salt and pepper to taste
Method
Sauté bacon in a pot over medium heat until translucent.
Add potatoes and enough water to cover the potatoes.
Turn heat up and bring to boil. Once the liquid boils, reduce heat to medium and simmer until about half of the water evaporates and the potatoes are tender when tested with a fork.
Add salt and pepper to taste and serve.
If you want to take this over the top, drizzle some truffle oil on top of your soup after you've placed it in bowls.
Enjoy!
— Vic
Category: Soup

Victor Panichkul is a journalist and writer by training; a cook, wine lover and photographer by passion; and a lover of the outdoors since moving to Oregon more than 10 years ago. He is a native of Bangkok, Thailand.