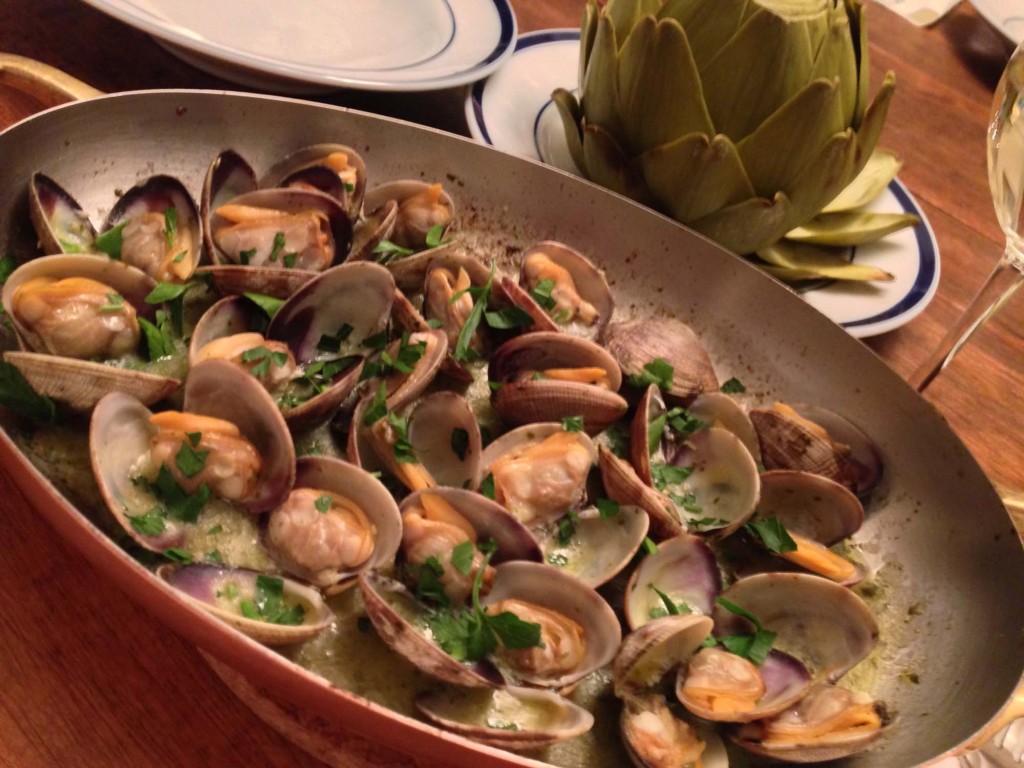 Dinner doesn't always have to be a big production. Sometimes the simplest dishes can be satisfying as well as quick.
We're blessed with an abundance of fresh farm-raised clams here, and everyone in the family likes clams, so sometimes when I'm pressed for time and we're craving something light, I'll sauté clams in a garlic and white wine sauce and top with chopped parsley for a simple entrée, then add a little steamed artichoke or asparagus as a side.
Steaming artichokes takes the longest in this simple meal, but if you're serving asparagus, you can cut your cooking time down to about half an hour.
The nice thing about this dish is that you can use the same wine that you've sautéed the clams in to drink with dinner.
Clams Sautéed in Garlic and White Wine
Serves 2
Ingredients:
2 tablespoons (30 ml) olive oil
3 cloves garlic, minced
1 pound (455 g) clams, rinsed
1 tablespoon (15 ml) butter
Salt and pepper to taste
2 cups (480 ml) dry white wine, such as chardonnay or pinot gris
Method:
Heat the olive oil over medium-high heat in a sauté pan with a lid.
Add garlic and cook until golden.
Add clams and butter and stir until butter melts.
Add salt and pepper.
Add wine and stir, cover with lid and let cook for 3-4 minutes, stirring occasionally until all clams open. Discard unopened clams.
Enjoy!
— Vic
Category: Seafood

Victor Panichkul is a journalist and writer by training; a cook, wine lover and photographer by passion; and a lover of the outdoors since moving to Oregon more than 10 years ago. He is a native of Bangkok, Thailand.