It's summer, finally, and we're in the second wave of berry season.
Strawberries are waning and now raspberries, marionberries, and cherries are flooding the farmers markets, drawing berry lovers like fruit flies.
The season for cherries is short but sweet. Oregon cherries are deep, dark red, juicy and sweet. The flesh is almost purple.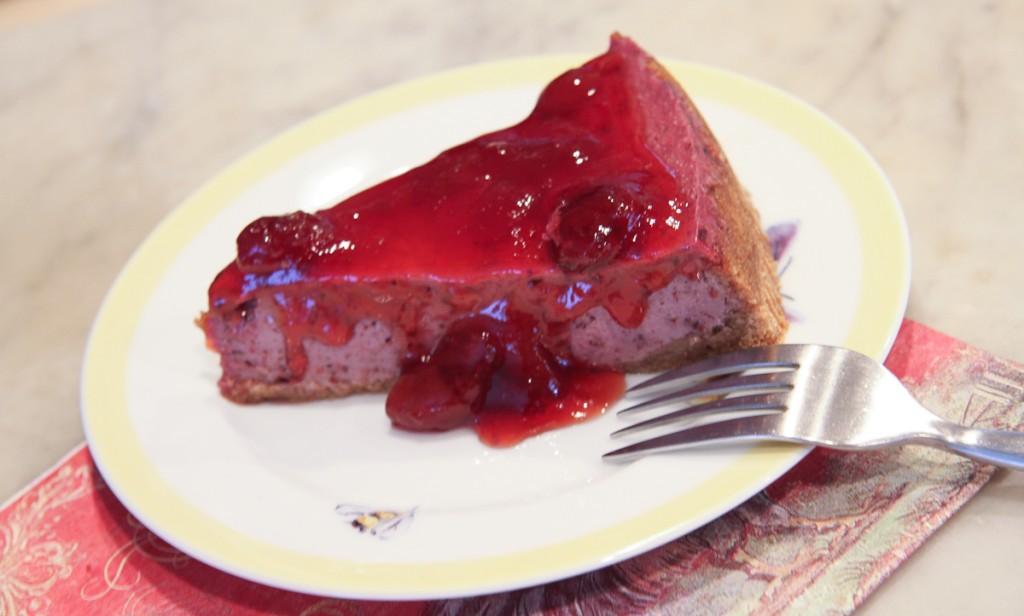 One of the ways to enjoy the flavor of Oregon cherries is in a no-bake cherry cheesecake. Fluffy and airy, it's almost like a chiffon.
The topping for this cheesecake uses cherry preserves, and it makes for a dazzling presentation at dessert time.
Cherry no-bake cheesecake with graham cracker crust
Makes one 9-inch pie and serves 6-8
Ingredients
Crust:
9 whole graham crackers
½ cup (120 ml) old-fashioned oats
3 tablespoons (packed) (45 ml) golden brown sugar
1/8 (.04 ml) teaspoon salt
5 tablespoons (150 ml) unsalted butter, melted
1 tablespoon (15 ml) hazelnut oil
1 teaspoon (5 ml) vanilla extract
Filling
¼ cup (60 ml) water
1 tablespoon (15 ml) unflavored gelatin (measured from 2 envelopes)
12 ounces (340 g) Philadelphia-brand cream cheese, room temperature
1 cup (240 ml) heavy whipping cream
1 cup (240 ml) sugar
1 tablespoon (15 ml) fresh lemon juice
2 pints pitted cherries
Directions
For crust:
Preheat oven to 350°F (177°C). Blend first 4 ingredients in processor until graham crackers are finely ground. Add butter, hazelnut oil and vanilla; process until moist crumbs form. Press crumb mixture onto bottom and 1 inch (2.5 cm) up sides of 9-inch-diameter (23 cm) springform pan. Bake crust until deep golden brown, about 12 minutes. Cool.
For filling:
Pour water into small saucepan; sprinkle gelatin over. Let stand 10 minutes. Stir over very low heat just until gelatin dissolves. Set aside.
Blend cream cheese, cream, sugar, and lemon juice in processor until smooth. Add cherries; puree until smooth (some cherry bits will remain). With machine running, add warm gelatin mixture through feed tube and blend well. Pour filling into crust. Cover; chill overnight. (Can be made 2 days ahead. Keep chilled.) Run knife around pan sides to loosen cake. Release pan sides. Transfer to platter, top with cherry preserves and serve.
Enjoy!
— Vic

Victor Panichkul is a journalist and writer by training; a cook, wine lover and photographer by passion; and a lover of the outdoors since moving to Oregon more than 10 years ago. He is a native of Bangkok, Thailand.