For those of you tired of yams and mashed potatoes and looking for something different as a holiday side dish, there's nothing that says winter to me more than some under-appreciated root vegetables like parsnips and beets. Add some delicata squash, a wonderfully sweet squash that beats out acorn squash, with its edible skin, the old carrot standby, and toss in olive oil and garlic seasoning, pop in the oven, and before you know it, you'll have a wonderful mélange of flavors that screams Winter is here and enjoy the bounty.
For an added contrast in flavor as well as color, these oven-roasted sweet root vegetables get kicked up a notch when tossed with some sautéed mustard greens that add just a slightly bitter taste. This idea is not my own, but rather inspired by a family Sunday dinner that our good friends Tina and Steve Martin took us to at Illahe Country Club in Salem. The executive chef, Marcia Hara, and I are acquaintances, and we often bump into each other at Roth's Vista Market in Salem. The last time I ran into her, I complimented her on the roasted vegetable dish and asked her about it. She told me that she loved using delicata squash because of its sweet flavor and color, and when I asked her about the greens that were scattered in the dish, she gave me one of those wry smiles like a kid who's been caught sneaking spinach onto his brother's plate. "I love using mustard greens and greens in general," she said. "It makes me feel like I'm giving them something healthy."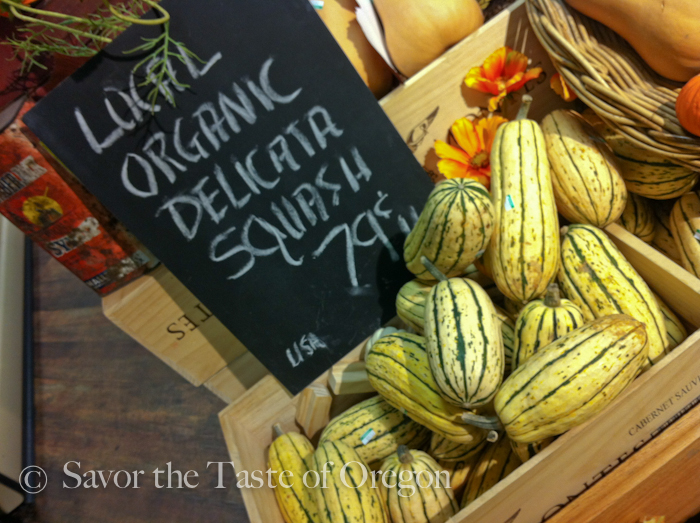 As I bid so long to Marcia, and I proceed down the vegetable aisle, what do you think I see at the end with all of those yams and spuds? Yup, a whole display of delicata squash! And so cheap too!
I took one and added it to my grocery cart, along with a parsnip, large carrot, and a bunch of mustard greens, inspired by Marcia to replicate the side dish that I had enjoyed so much at Illahe.
The prep time is minimal: peeling the root veggies and cutting them into chunks; cutting the delicata squash and scooping out the seeds before slicing it into smaller pieces; and washing and cutting the mustard greens, discarding the stems. Once it's in the oven, you need to bring the veggies out to toss them in the roasting pan only a couple of times, and soon your side dish is done.
Roasted Parsnips, Carrots and Delicata Squash with Sautéed Mustard Greens
Serves 4 as a side dish
Ingredients
6 tablespoons (90 ml.) olive oil
1 clove garlic finely chopped
1 bunch mustard greens, rinsed, stems removed, and leafy portions chopped into pieces
Salt to taste
1 large carrot, washed, peeled and cut into half-inch pieces
1 large parsnip, washed, peeled and cut into half-inch pieces
1 delicata squash, cut lengthwise, seeds removed with a melon baller, and sliced into thin pieces
2 teaspoons (10 ml.) garlic seasoning
Method
Preheat oven to 375 ºF (190 ºC).
Heat 2 tablespoons of the olive oil in a large skillet or wok over high heat.
Add garlic and sauté until it turns golden.
Add mustard greens, stirring until the greens wilt and turn a dark green.
Add salt to taste.
Line a sheet pan with foil, add root vegetables and squash, and toss with remaining olive oil and garlic seasoning.
Place in oven and roast approximately 10 minutes until vegetables are soft and golden, removing pan once or twice to toss vegetables in order to evenly roast.
When ready to serve, combine roasted vegetables and mustard greens, toss and serve.
Enjoy!
— Vic
P.S.
Don't forget to check out the Let's Lunchers' festive family offerings below! And if you'd like to join Let's Lunch, go to Twitter and post a message with the hashtag #Letslunch.
Cheryl's Antie Jane's Potato Gratin at A Tiger in the Kitchen
Charissa's Coconut Date Balls at Zest Bakery
Eleanor's Easy Festive Stir-Fry at Wok Star
Ellise's Lime-Chipotle Carrots at Cowgirl Chef
Felicia's Chinese Butterfly Cookies at Burnt-Out Baker
Grace's Fruitcake at HapaMama
Joe's Maine Homestead Holiday Dishes at Joe Yonan
Linda's Baked Salad at Free Range Cookies
Linda's Trinidadian Baked Pastelles at Spicebox Travels
Lisa's Potato Latkes at Monday Morning Cooking Club
Lucy's "Not My Mama's" Black-Eyed Peas & Greens at A Cook And Her Books
Maria's Grandma Dorothy's Deviled Eggs at Maria's Good Things
Patrick's Baby Pecan Pies at Patrick G. Lee
Rebecca's Grandmother Martha's Potato Kugel at Grongar Blog
Steff's Sweet Potato Casserole with Pecan Crumble at The Kitchen Trials
Category: Vegetable, Vegetarian

Victor Panichkul is a journalist and writer by training; a cook, wine lover and photographer by passion; and a lover of the outdoors since moving to Oregon more than 10 years ago. He is a native of Bangkok, Thailand.