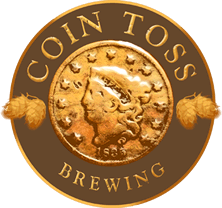 Craft beer lovers and baseball fans will be able to "get their pickle on" at this weekend's Great West Brew Fest at Walker Stadium in Southeast Portland. "Caught in a Pickle" Lager from Coin Toss Brewing Co. will be among 40 craft beers available at the festival.
Just one keg of this dill-icious beer exists, concocted especially for the festival, which runs this Friday and Saturday, prior to and during Portland Pickles baseball games.
After taste-testing juice from a half-dozen different types of pickles, the brewers at Coin Toss blended an entire gallon of juice from bread-and-butter pickles into a half-barrel of the brewery's house lager to create a truly one-of-a-kind beer.
"We settled on bread-and-butter pickle juice because the flavor reminded us so much of eating a hot dog with relish at the ballpark," said Coin Toss Brewing Co. founder Tim Hohl. "It's a fun way to celebrate Portland Pickles baseball and craft beer. You'll want to eat a hog dog with this beer!"
The two-day Great West Brew Fest is open on Friday, July 15, from 4pm to the conclusion of the seventh inning of the ballgame; and on Saturday, July 16 from 2pm until the  end of the seventh inning. With a ticket to the game, admission to the Great West Brew Fest is $10. A $20 admission provides entry to the festival and viewing of the game from the festival grounds. Admission includes a souvenir pint mug and four beer tastes.
Coin Toss Brewing Co. is a proud partner of the Portland Pickles baseball team. You can find Coin Toss beers on tap at Walker Stadium throughout the season. 
Category: Beer/Ale

Victor Panichkul is a journalist and writer by training; a cook, wine lover and photographer by passion; and a lover of the outdoors since moving to Oregon more than 10 years ago. He is a native of Bangkok, Thailand.