"Oregon strawberries: Sweeter! Redder! Simply Better." So say the folks at The Oregon Strawberry Commission.
"There are many reasons why Oregon strawberries are so sweet, red and juicy but one of the most important ones is our climate. Oregon has a long mild spring and early summer. We have lots of rain and often have cool nights and warm sunny days. These conditions are perfect for growing the sweetest strawberries. The berries stay on the vine and ripen slowly, allowing the sugars to increase before harvest. If you take a drive in the country during berry season you will see acres of strawberry plants which add to the beauty of the Oregon landscape."
What could sum up the simple delight of strawberries better than this quote from George Peele's The Old Wives Tale? "Strawberries swimming in the cream, And schoolboys playing in the stream….."
Our strawberries here in Oregon are dear to us. Their season comes and goes faster than we can get our fill. Fortunately, these delicate delights freeze well and can hang on for months so we can pull some out in December to remind us of summers past. Much of the remaining crop ends up in jams and preserves to share with the world.
Strawberry shortcake - two words that sing America, the Fourth of July, picnics, and a reason to stop everything and enjoy sweet, earthly pleasures.
I grew up as one of the pioneering baby boomers when our mothers were being given timesavers to lighten their loads. We enjoyed our berries and sweet cream atop little mass-produced sponge cakes shaped like hockey pucks with indentations on top to hold the fruit and cream. Hmmmm - Strawberry Shortcut!
The biscuit-like shortcake here is easier to make than going to the store and purchasing pre-made, so no excuses for not making a masterpiece from scratch.
One Big Strawberry Shortcake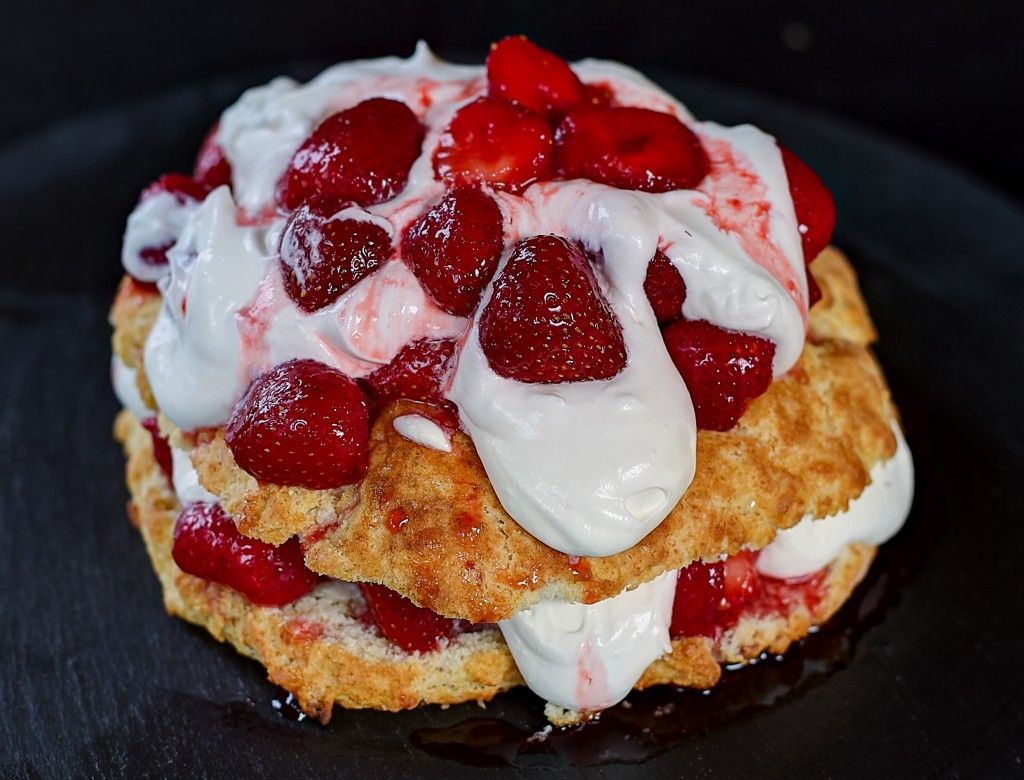 Adapted from a recipe in Saveur.
3-4 cups (710-945 ml) fresh strawberries, washed, hulled, and halved
6 tablespoons (90 ml) sugar, divided 5 (75 ml) and 1 (15 ml)
1 scant tablespoon (15 ml) Kirschwasser (cherry brandy), optional
1½ cups (360 ml) all-purpose flour
2 teaspoons (10 ml) baking powder
1 teaspoon (5 ml) salt
4 tablespoons (60 ml) unsalted butter cut into small pieces (I find freezing the butter then grating on the large holes of a cheese grater a quick way to accomplish this task.)
¾ cup (180 ml) milk
1 cup (240 ml) heavy cream, whipped
Method:
Preheat oven to 400 ºF (204 ºC).
Sprinkle the prepared berries with 5 tablespoons (75 ml) of the sugar and kirschwasser.
Stir gently and let macerate while you make the sweet biscuit.
Put the flour, baking powder, salt and the remaining tablespoon of sugar through a sifter into a bowl.
Add the butter pieces and mix all with a pastry cutter or your hands until it is mealy.
Stir in the milk and bring it all together; don't overdo it here as it won't look pretty.
Place on a floured surface and mold into a disk about 2″ x 7″ (5×18 cm)
Place on a baking sheet lined with parchment paper and bake for about 15 minutes until golden all over.
Cool and slice horizontally.
Spread some softened butter over both cut sides of the biscuit to prevent juices from soaking in.
Spread some of the whipped cream on the bottom half of the biscuit.
Add some of the macerated berries.
Place the top half of the biscuit over this, and top with remaining berries and cream.
Now smile, pat yourself on the back, and trot this baby out to dazzle your lucky diners.
Bon appétit
— Charles
Category: Desserts, Uncategorized

Music, food and photography are at the center of Charles' life. He performed with the Dallas Symphony, Dallas Opera and was assistant principal bassoonist with the Fort Worth Symphony for more than 20 years. When Charles and Victor moved to Baltimore, Charles created Lone Star Personal Chef and Catering Service and taught cooking classes at Williams-Sonoma. Now in Salem, Charles is a Realtor with Coldwell Banker Mountain West Real Estate, taught cooking classes for children at the A.C. Gilbert Discovery Village, and owns and operates Charles Price Photography. Charles and Vic enjoy entertaining and frequently host dinners as fundraisers for local non-profits and charities