Tag: Capers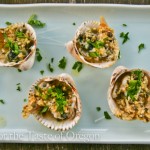 One of the fun things about going to the bays in Oregon to dig for clams or cockles is that inevitably you run into other clam and cockle lovers scouring the sand for these succulent prizes, and you get to swap favorite methods for preparing the seafood bounty once you get home. The last time I was there, I ran into a family that was knee deep in huge pits that they had dug out in the bay, their kids clawing through the sand with potato forks while the parents were digging away with shovels. I walked over to the mother and asked her what her favorite way of preparing the cockles was. "Shuck 'em, dab some butter and chopped garlic on them and put 'em under the broiler," she said. On my way home with my limit of cockles from Tillamook Bay, I pondered what she said and decided that I would try chopped up garlic, capers, thyme and olive oil on my shucked cockles before sliding them under the broiler. Yup. That should do the trick.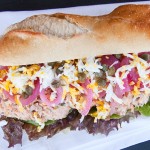 Smoked salmon is such a wondrous food in itself, why turn it into an ingredient? Because we can!  Smoked salmon, whether smoked cold or hot, is usually accompanied by breads or crackers and condiments such as cream cheese, onions, capers, sour cream … and the list can go on around the world.  My first taste of […]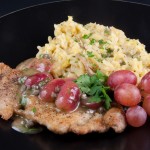 When I came across a recipe for Sole Piccata with Grapes and Capers in Bon Appétit, I knew I had to try it. It was one of those "Holy capers Batman, this dish goes super kapow!" recipes. The grapes added a bold dimension without overpowering the lemon and capers but stood next to them equal in flavor. This is a weeknight dish that you can have on the table in a reasonably short time and can be dressed up for company if you don't mind cooking at the last minute.