Tag: Ginger
I thought of this dish and my brief childhood sojourn in Singapore recently when I learned that a wonderful friend, a witty Singaporean now living with her charming husband in New York City, was coming through the Northwest on a tour to promote her new book, "A Tiger in the Kitchen," a memoir about her experience reconnecting with her Singaporean roots and family by travelling home to learn her family recipes. I wish I had time to prepare the dish for Cheryl and Mike, but our visit was brief but fun.
Pork tenderloin is one of those easy-to-cook lean cuts of meat that benefits from being served with a sauce, dressing, or fruit compote. One of Oregon's signature fruit crops is pear, and a pear compote pairs perfectly with pork, especially if it's been cooked with pinot noir, another signature Oregon product!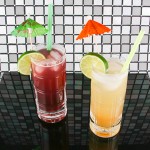 The ginger ale soft drink as we know it is a descendant of many generations of ginger drinks probably originating in Eastern Europe. Some were alcoholic and some were not, and I'll bet virtually all delivered a kick and personality you won't find in the high-fructose corn syrup versions available at most supermarkets. This homemade one will not disappoint. Three kickers in the form of ginger, lemongrass and chiles tamed with sugar and water make for an exotic, energizing, cooling and healthful refreshment.