Tag: Mustard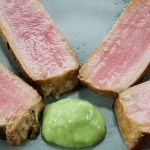 Beaver brand, made by Oregon-based and family-owned Beaverton Foods, is the largest producer of non-refrigerated horseradish and specialty mustards in the U.S. The company also makes a wide variety of best-selling gourmet sauces, garlic, spices, and other unique specialty condiments packaged under these labels: Beaver, Inglehoffer, Napa Valley and Tulelake.
Wherever you find a carnival, a state or county fair, you will surely find abundant, itinerant street food and some form of corn dogs have been a part of that culture for decades.
These days, with many chefs and cooks thinking outside the box, variations on the original recipes begin to appear. Inspiration for Corny Shrimp Pups came from a Neiman Marcus cookbook that I recently purchased at Tuesday Morning for a song.
Mustards and Worcestershire sauce are always on hand in our house but I couldn't resist the idea of making my own. This mustard is fiery and capable however it mellows as it ages. Both recipes recommend storing in the refrigerator with a shelf life of 6 months for the mustard and up to 8 months for the Worcestershire sauce.
The Worcestershire alone is amazingly complex. Now – good as it is, will you ever want commercially made sauce again?