Tag: miners lettuce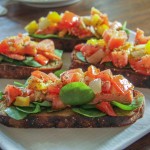 Bruschetta using bread from The Bread Board made with smoked steelhead, miner's lettuce and tomatoes and yellow bell pepper. Pair it with a great Oregon white pinot noir and say welcome to spring.
Dinner was my responsibility on this particular evening, and how does one follow a brunch where just "tasting" a little of everything adds up to a gargantuan meal? We had leftover miner's lettuce from the Saturday market and Vic wanted to use that up. When he asked what I planned to make, all I said was, "Scallops with miner's lettuce!"
Utilizing a seared scallop recipe from Fine Cooking Magazine and building a salad made for a delicious and light Sunday dinner.