Tag: Spot Prawns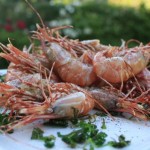 One of my favorite Chinese dishes, fried salt and pepper shrimp, where shrimp are deep fried whole and then sprinkled with salt and fresh ground pepper, inspired me to try the method with spot prawns. I figured that it would highlight the sweet meat of the spot prawns to cook them this way. Plus deep frying them with the heads on would mean that after removing the shell from the head and most of the legs, you could eat the remaining head with crunchy bits, like the way heads of ama ebi shrimp are deep fried and served to diners to crunch on whole.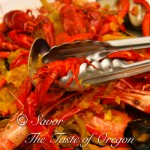 I recall a vivid memory of my cousin Vernon and I bringing home a batch of crawdads from the creek in the field near his house and handing them over to our grandmother to fry up the tails. Big, brave stuff we were, foraging for our own wild food snack.
When I learned that Oregon is the second largest producer of crawfish, next to Louisiana, my boyhood curiosity was piqued. The Pelican State is accountable for about 90% of the nations crawfish with the Beaver State making up a chunk of the remainder.