Tag: Squash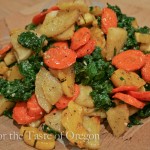 For those of you making a mad dash to the grocery store because you've procrastinated until now to deal with your Thanksgiving dinner, this is probably too late for you, but if you're tired of yams and mashed potatoes, there's nothing that says fall to me more than some under-appreciated root vegetables like parsnips and beets. Add some delicata squash, a wonderfully sweet squash that beats out acorn squash, with it's edible skin, the old carrot stand-by and toss in olive oil and garlic seasoning and pop in the oven and before you know it, you'll have a wonderful melange of flavors that screams fall is here and enjoy the bounty.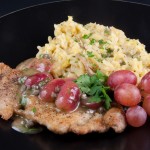 When I came across a recipe for Sole Piccata with Grapes and Capers in Bon Appétit, I knew I had to try it. It was one of those "Holy capers Batman, this dish goes super kapow!" recipes. The grapes added a bold dimension without overpowering the lemon and capers but stood next to them equal in flavor. This is a weeknight dish that you can have on the table in a reasonably short time and can be dressed up for company if you don't mind cooking at the last minute.
Our usual holiday group scattered this year leaving us to fend for ourselves on Thanksgiving. No problem! We began dreaming about our options of letting someone else pamper us with dinner at favorite restaurants that we visit on special occasions. That's when we thought of Jory Restaurant, a new one for us. Fortunately we called in time to score a 7 PM table at the newly opened restaurant in the equally new Allison Inn and Spa in Newberg, Oregon. It was a wise choice. Our expectations were met with traditional Thanksgiving fare carried out with the creative touches of Executive Chef Nathan Lockwood and served with relaxed, friendly attention.