Tag: Curry
May is the beginning of the Oregon and Alaska spring commercial salmon season, so you'll be able to get wild salmon at the store. Here's an uncommon way to enjoy salmon that is a marriage of a Pacific Northwest ingredient with a distinctly Asian presentation.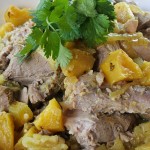 If a kalua piggy went to Phuket for a vacation, I figure he'd end up soaked in coconut milk, curry, and then surrounded by chunks of onion and pineapple before being wrapped in banana leaves and taken for a walk over hot coals. Forget digging a hole in your back yard to do this. No need to ruin the landscape. I've figured out how to do this in a Weber kettle charcoal grill. The lawn and roses get to live another day! Serve with a Thai satay-style peanut sauce to top it off.
Oregon is one of those states where lots of people forage for interesting food. Some forage the forests for wild mushrooms in the fall. Others forage for truffles buried beneath the forest floor, with their truffle-sniffing dogs in tow. Still others forage the many tidal pools at the coast…for what? you might ask. Read on and you'll discover some tasty edibles.