Tag: chocolate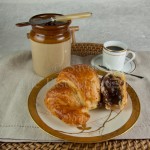 I wonder how many Americans–Yanks, that is–discover Nutella for the first time while visiting Europe. That's where I enjoyed it first. Lovely stuff and like much lovely stuff, it can be addictive.
Homemade Nutella or Chocolate Hazelnut Spread is no less addictive, just fresher, and the use of freshly roasted nuts along with a premium cocoa powder raises the bar for flavor. It's a simple list of ingredients: hazelnuts, sugar, vanilla, hazelnut oil, cocoa powder and a pinch of salt.
Every time I roast fresh hazelnuts and grind them in a food processor, the perfume emanating from the bowl is almost levitating, like when the aroma of cooking bacon or fresh-hot coffee pulls cartoon characters out of bed and floats them down to the source.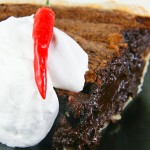 My first date with Ancho Fudge Pie was at the original Z'Tejas Southwestern Grill on 6th Street in Austin, Texas, some time in the late 1980s. I can't remember if "Southwestern Grill" was part of the name then, but that's not important.
About 10 years later I noticed that they had expanded beyond Texas. Lo and behold, they had opened a Z'Tejas in Columbia, Maryland, one of the early master-planned communities in the U.S. Pie heaven come home to me.