Tag: figs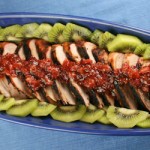 And this little figgy piggy screamed "kiwi, kiwi, kiwi" all the way home!
This semi-exotic fruit lends a clean, tart flavor to savory dishes.
The foods from Southeastern France are known for their bold flavors, and what could be more bold than garlic, anchovies and olive oil? No shy wallflowers are they! What's amazing in this combination is that none of them are able to stand out over the other. Now that's teamwork!