Tag: Stew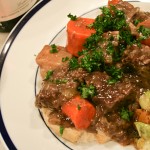 The weather in the Mid-Willamette Valley has turned cool and wet again. It's the perfect weather to light a fire in the fireplace, turn on some relaxing music and cozy up to a serving of hot stew and a glass of pinot noir.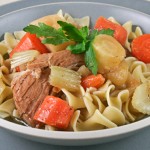 Pork and apples make a perfect marriage. When stewed or baked with apples, the pork takes on the wonderful flavors of apples – sweet, but somewhere lurking in the background is that familiar tart flavor that's a pleasant surprise.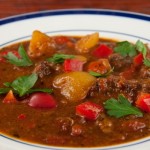 A beef stew appears on the tables in many cultures and countries. France has "boeuf bourguignon" as well as "daube de boeuf Provençal". Belgium has "vlaamse stovery" or "les carbonades Flamandes". Mexico and the Southwest have "carne guisada" which translates as "meat in gravy". In Ireland it's called, of all things, Irish stew and more times than not, it contains a liberal glug of Guinness Stout. Here in the US of A we have, well, beef stew and, being as we are the self-proclaimed melting pot of the world, we often make it any way we wish.