Tag: Marionberry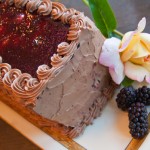 Our first year was not only bumpy from flying by the seat of our pants, but we experienced some highs that were unexpected. In March, Saveur Magazine honored us by including The Taste of Oregon as one of the five best regional food blogs in their food blog contest. We've taken you almost everywhere we go in our enjoyment of living in Oregon: deep-sea salmon fishing, clamming, crabbing, and of course, wine tasting. Here's to a wonderful first year.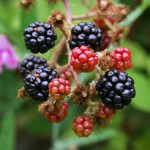 It's that time of year in Oregon when marionberries and blackberries appear in abundance. Wild blackberries are everywhere in the Willamette Valley, even growing along the median of Interstate 5.
I can literally walk out my front door and return in a very short period of time with enough berries to make a pie or cobbler from scavenging along the nearby streets.