Tag: Meat
Memories of Barbara's food haunts me from time to time. She once made a shrimp creole that was absolutely one of the best things I have ever eaten. She was using a recipe this time, one from Paul Prudhomme's Louisiana Kitchen. It involved making a seafood stock with the heads and shells of the shrimp. I took a whiff and doubted its benefit in the recipe. To me, it had an offensive smell. Now Barbara was doubtful. Her husband, Jimmy, said to use it anyway. Lucky for us that she followed his advice. It was memorable. And, after all, who am I to doubt a Paul Prudhomme recipe … or Barbara?
Chicken Marsala is one of my main "go to" dishes when I'm too lazy to look for something new. Over the years I have added onions or shallots and mushrooms. Recently I found a recipe on epicurious.com for Chicken Marsala with Sage. Adding the sage to my evolving recipe was a hit, and using oyster mushrooms instead of white or crimini was perfect. The family proclaimed it the best Marsala I have made to date.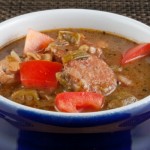 Making a gumbo can be a religious experience and shouldn't be attempted when you're short on time. Most will agree that any gumbo will begin with a dark roux and can be thickened further with the okra or filé powder (ground sassafras leaves). Not wanting to be exclusive, I use all three.