Tag: cherry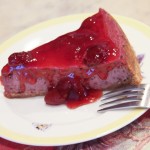 One of the ways to enjoy the flavor of Oregon cherries is in a no-bake cherry cheesecake. Fluffy and airy, it's almost like a chiffon.
The topping for this cheesecake uses cherry preserves and it makes for a dazzling presentation at dessert time.
When we lived in Texas, one of the things that signaled the arrival of summer was the appearance of peaches at the farmers market. In Oregon, we look for the arrival of cherries. Sweet. Red. Juicy.
For berry lovers, it's heaven when summer arrives in Oregon and cherries, blueberries and marionberries flood the farmers markets and stores. People swarm to the fruit stands like fruit flies. But like all good things, you have to enjoy it while you can. The cherry season is short, if sweet. So here's a delicious cherry ice cream recipe to try. It's sure to leave you with cherry-stained smiles.