Tag: Italian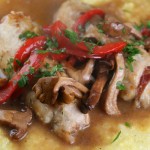 Traditional Saltimbocca alla Romana or Vitelo Saltimbocca, as it is occasionally dubbed, is a scaloppine of veal pounded thin with a thin slice of prosciutto and sage leaves. It is often sautéed in butter and then served with a pan sauce of stock and wine such as Marsala. It is also made with chicken, turkey or pork with equal success.
Saltimbocca is a contraction of i salta in bocca which means "it jumps in the mouth". If we could be time-traveling flies-on-the-wall and go back a few centuries to the restaurant where saltimbocca alla Romana began, we'd probable hear some hungry Italian calling to the waiter, "Hey Guido, bringa me somma dat dish dat jumps ina my mouth!"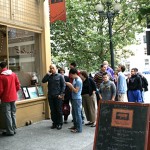 Those in the know in Seattle who crave authentic Italian-style cured meats know to head down to Pioneer Square to a tiny storefront where they can find the best cured meats in town made by Mario Batali's father, Armandino.
My "Sage and Mozzarella Sandwich" began to take shape quite a few years ago. I was thumbing through The Fine Art of Italian Cooking by Giuliano Bugialli. I became fascinated with a recipe titled Foglie di Salvia Ripieno or "little sage sandwiches." I imagined Catherine de' Medici serving these little packages at one of her repasts in France. And by the way, her personal chefs inspired the beginnings of French cuisine as we know it today.