Tag: Turkey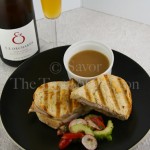 Cheeses and fruit, especially pears and apples, are natural companions, so deciding on a grilled cheese sandwich was easy. Vic was pressuring me to make one of my turkey dip sandwiches, but I wanted something different to pair with the meat. After a brief gestation period I decided on a sandwich filled with Willamette Valley Cheese's aged cheddar, roasted pear slices and thinly sliced smoked turkey breast. Making a savory and sweet dipping sauce was just a matter of experimentation in a saucepan on the stovetop.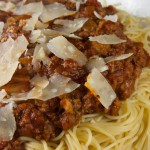 How generic can you get with a recipe? How about "Pasta with House Sauce"? In truth, how often, especially when time is an issue, do we turn to pasta to help us put a meal on our table? It can be the "go-to" for stretching quantities when unexpected diners are coming. It can help turn boring leftovers into something new and fresh, as well as serving as a dependable base for knockout sauces. And…….it's nutritious, satisfying and inexpensive.
Our usual holiday group scattered this year leaving us to fend for ourselves on Thanksgiving. No problem! We began dreaming about our options of letting someone else pamper us with dinner at favorite restaurants that we visit on special occasions. That's when we thought of Jory Restaurant, a new one for us. Fortunately we called in time to score a 7 PM table at the newly opened restaurant in the equally new Allison Inn and Spa in Newberg, Oregon. It was a wise choice. Our expectations were met with traditional Thanksgiving fare carried out with the creative touches of Executive Chef Nathan Lockwood and served with relaxed, friendly attention.