Tag: vegetables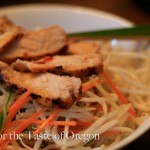 Mai-fun noodles are perfect to serve cold, their delicate texture takes on the flavor of sauces easily and these thin noodles are refreshing chilled and served with julienned vegetables such as cucumber and carrot. Add refreshing bean sprouts and you have the basis for a summertime noodle salad. And what about a dressing? Something sweet, salty and tangy like the Vietnamese nuoc cham sauce is perfect for a dish like this. It's light and refreshing. All you need to do is add a little meat. I love the flavors of cumin and paprika and created a marinade for pork that reminds me of Moroccan flavors so I christened it Morrocan pork. Quickly seared in a cast-iron pan and then sliced into thin pieces, the pork makes a wonderful addition to the salad.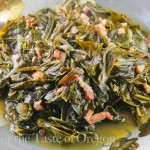 During all of the years we lived in Texas, I never learned how to make collard greens, even though it was a dish I loved to eat with fried chicken. It wasn't until we moved to Oregon that I actually mastered collard greens, from a true southerner who had moved here to Oregon. Mary Irby Jones is from Mississippi and learned to make collards from her mother. When I told her I wanted to learn to make them, she offered to come over to show me her mother's secrets.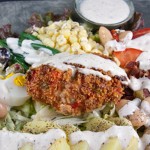 My mother knew how to stretch a penny and on many occasions canned salmon came to our family table in the form of salmon patties. That would be "sall-mon" in our home with a distinct and noticeable lean on the letter "l".
This tasted nothing like the salmon I have come to love in the Pacific Northwest. My mother's salmon patties were tasty enough with some mayonnaise, onions, spices and an egg to hold it all together but the taste difference between those patties and fresh, line-caught salmon is like night and day. WOW!